Hello neighbor! I hope you're staying cool during this summer heat wave. It's August 2022, and I hope you know that that means it's time for another Lochwood Market Update!
Market Update
Last time I wrote, I asked whether the Lochwood market had peaked or not. Let's take a dive into the sales that closed in July, and year-over-year numbers, to see if we can figure it out. Here's your August 2022 Lochwood Market Update…..
Firstly, year-over-year numbers (chart below, left) were basically unchanged. The biggest changes are circled in red: fewer days on market before a home went under contract, and fewer pending sales, which could mean fewer closed sales for August 2022. We will have to wait and see!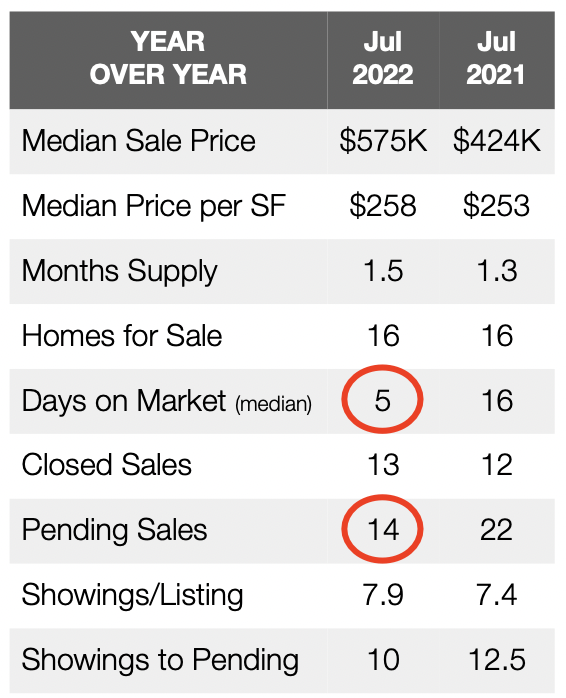 Individual Sales
Individual sales for July are listed below to the right. There were 13 closed sales in all, and 8 homes sold for 100 percent or more of the seller's original list price. Listings with the red box around them had higher days on market, had one or more price reductions, and ultimately sold for less than the seller's original list price. The only exception is 11129 Carissa. It sold quickly, without price reductions, for less than the seller's original list price.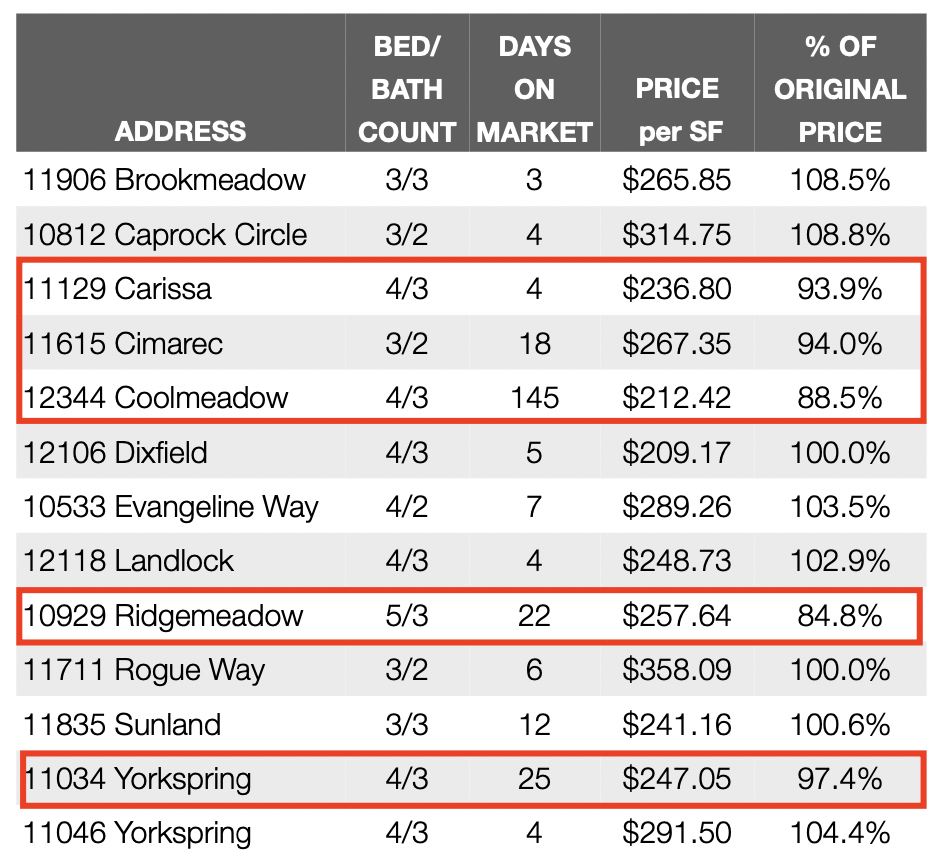 The biggest change in the market is one that I do not track or report on a monthly basis: mortgage interest rates. The biggest change we've seen in the real estate market is the interest rate that buyers are paying to borrow money to purchase a home.
Yearly Comparison
In July 2021, the average interest rate for a 30-year fixed rate mortgage was below three percent. In July 2022 the average rate was 5.5 percent. What does that mean in terms of every day costs for home buyers? The median sale price of a home in Lochwood was $575,000 in July 2022.
Financed over 30 years, with 20 percent down at 2.75 percent in July 2021 equates to a monthly payment of approximately $3,300. Using the same price and terms for July 2022 rate of 5.5 percent equates to an approximate monthly payment of $4,000. That's a 20 percent increase in a home buyer's housing payment 😮
Conclusions
My takeaway from this information is that the buyers who are buying into our neighborhood are extremely rate-resilient. They likely realize that the cost of borrowing money is going to continue to rise as the Federal Reserve attempts to bring down inflation. They also probably realize that because inventory is still very low, home prices are going to continue to rise.
Do I think they're going up 30 percent like they did last year? No, I do not. Do I think we could see lower-double-digit appreciation? Yes, I do, which is why it makes sense to buy now and refinance when rates go down next year or the following year.
Recession?
Since I've used my space on this blog and your time to talk about interest rates and the Federal Reserve, I would be remiss if I didn't mention the R-word. You know, that word that keeps bouncing around among economists and the media….recession.
Firstly, how and when the word gets used largely depends on the results of economic data that been most recently released. For example, when they were talking about decreasing GDP a few weeks ago, they talked more about recession. When they talked about positive job growth last week, there was less talk of a recession.
Mixed Signals
The truth is, there are a lot of mixed signals coming from the economic indicators we traditionally use to assess the state of our national economy. But here are the things of which I am certain after working in DFW real estate for nearly 30 years.
First, if we do go into a recession, DFW homeowners will likely experience a limited impact. Home buyers are currently putting more money toward a down payment than they have in the past, and homeowners have more equity than they've ever had in the past. If there is a dip in housing values, people have equity, which means it will not see a fire sale on houses.
Secondly, our local economy will be a leading economy as we come out of recession. That has been the case for our last three recessions, and I do not see any reason to think differently if and when we slip into another.
Key Takeaways
I've thrown a lot at you today! Thanks for sticking with me. Here are my key takeaways:
We are still in a seller's market, but a lot of buyers have been priced out of the market, or chosen to exit the purchase market, so sellers are getting 1, 4, or 5 offers on their homes rather than 20 to 30.
Homes that are priced correctly go under contract quickly and sell at or over the seller's asking price.
The cost of borrowing money to buy a home has increased and will continue to jump around based on the most recent economic data.
Housing prices will continue to rise, but at a slower pace than 2021 because higher interest rates are eliminating some buyers from the market.
It's still a good time to sell.
It is also a good time to buy. I'm currently advising my clients to marry the home and date the interest rate 😃
Don't try to time the market. Make a move when it's right for you and your family.
That's all I have for you today. I hope you've found it helpful and informative. If you've been thinking of making a move, give me a call. I'd love the opportunity to work with you!
I will be in touch soon!
In your service,