Does the thought of navigating the home buying process make you feel stressed or give you anxiety? And is that stress and anxiety keeping you in a home-buying holding pattern? Well, take a deep breath and relax because in this blog I'm sharing my 7 Secrets to Stress-free Home Buying.
As always, you can either read these tips for yourself, or watch the video version by clicking here.
Be sure to watch or read to the end so that you can be a home buyer who walks away from the closing table and says, "That was so easy!" 
Stress-free Home Buying Secret #1
Engage a realtor who you trust to help guide you through the home buying process. Working with someone who you trust will immediately help you reduce your stress.
A good agent will listen to your wants and needs and help you make decisions about your purchase based on those wants and needs. They will also refer you to vendors they've worked with in the past who have helped their other clients achieve their goals. Ask your agent to explain the home buying process completely and in detail so that you understand what happens in each step, what decisions you'll need to make along the way, and how much time you'll have to make them. 
Stress-free Home Buying Secret #2
Get your finances in order by speaking with a mortgage lender. Not sure who you should talk to? Ask your agent which lenders they work with and speak with each of them to determine which one you communicate with best. 
A good loan officer will take your overall financial goals into consideration when they recommend loan products and programs for your specific needs. They will make recommendations about debts you might want to pay off, or leave alone. You don't have to be debt-free to buy a home. 
They will provide you with an estimate of your closing costs so that you'll know how much cash you'll need to bring to the closing table.
They will also know how to "package" your file so that it gets through the underwriting process as quickly and smoothly as possible once you have a home under contract.
Stress-free Home Buying
Secret #3
Know your maximum purchase price and the price point where you're most comfortable buying a home. Oftentimes, they're not the same. This will help you avoid looking at homes that are priced beyond your comfort level. It will also help you know when to increase your price, if you cannot find a home that you like in your initial price range.
Stress-free Home Buying
Secret #4
Start putting together a list of features you want your dream home to have and share it with your agent. 
Are you a home chef? Then you'll probably want a kitchen that's updated and has lots of storage for all of your gadgets. 
Do you want a pool? Then you'd only want to look at homes that already have a pool, or make sure you'd be able to build a pool in the backyard. 
Personally, I love walking my dogs. i do it every day, so living in a dog-friendly and walkable neighborhood was very important to me.
Stress-free Home Buying
Secret #5
Get familiar with the neighborhoods where you think you want to live. Go to open houses in those neighborhoods and drive through them during daylight and evening hours. Talk to folks who live there and ask them what they like and dislike about the area. 
Stress-free Home Buying
Secret #6
If you have kids, or you plan on having kids and schools are important to you, then start researching the schools that serve the neighborhoods where you think you want to live. Set an appointment with the principals so that you can take a tour of the school and learn as much as you can about it.
Stress-free Home Buying
Secret #7
If you're a first time home buyer, know that your priorities, wants and needs may change as you look at more properties. It's totally normal to think you know what you want, and then change your mind when you actually start looking at properties. just make sure you communicate that to your agent so that they can best help you find the one.
The bottomline is to be prepared by doing your research, communicating with your agent and lender, and working with reputable professionals.
Those are the secrets to making your home purchase as stress-free as possible. See how easy that was!
If you really want to be prepared to buy a home in Dallas, then you'll want to watch my next video: 11 tips for winning in a multiple offer situation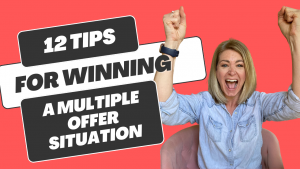 Our market can be extremely competitive because we have high demand for housing and low supply. Prepare yourself by knowing how to set yourself apart from the competition on a multiple offer situation.
Have a great day!