If you're a homeowner in East Dallas or planning to become one, you'll want to read this blog or watch the video update because I'm sharing the latest real estate market trends, in East Dallas, from July 2023. 
Make sure you watch or read all the way to the end so that you can take advantage of some hidden opportunities whether you're thinking about buying or selling. 
Where is East Dallas?
Before we get started, let's take a minute to specify what areas are considered to be East Dallas. 
Basically, this market update includes all single-family homes from Central Expressway to the eastern border of Dallas, and from Northwest Highway down to I-30. 
Here's how it breaks down by zip code. East Dallas includes:  75206, 75204, 75214, 75218, 75228, and a very small portion of 75223.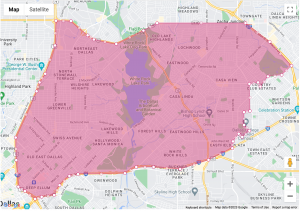 How much inventory did we have in July?
Alright, from a high level perspective, in July there was a 2.4 month supply of homes available for sale in East Dallas, which keeps things pretty firmly in seller's market territory. 
What does that mean? Months of supply tells you how many months it would take for all of the homes currently on the market to sell. 
Four to six months of inventory indicates a more balanced market. Less than four months means there's not a lot of inventory available which can drive prices up. More than six months of supply means there's lots of properties available for buyers to choose from which can drive prices down. 
So, how is inventory trending? Well, it's been trending up since summer began, but that is typical for our market because more people put their homes on the market while more buyers are shopping for new homes, which is usually during the summer. 
To be more specific though, July inventory was up from 2.2 months in June.  
Year-over-year, there was little shift in the amount of homes available for buyers to purchase in East Dallas. 
What was the average sale price of an East Dallas home in July?
In July, the average sale price for a home in East Dallas was $706,578. Please keep in mind that this is the average across all neighborhoods within this broad geographic area. 
Sale prices ranged from $126,000 for a 7500 square foot lot off Parry Street, just north of Fair Park, to $2.45 million for a newly constructed home in Lakewood-proper. 
The average sale price is up slightly versus this time last year, but it is down 10 percent versus last month. 
Now don't start thinking that the market is crashing because the average sale price can fluctuate quite a bit from month to month. 
This graph shows the trend of sale prices in East Dallas over the last 5 years.  As you can see, home owners in East Dallas have experienced a lot of appreciation.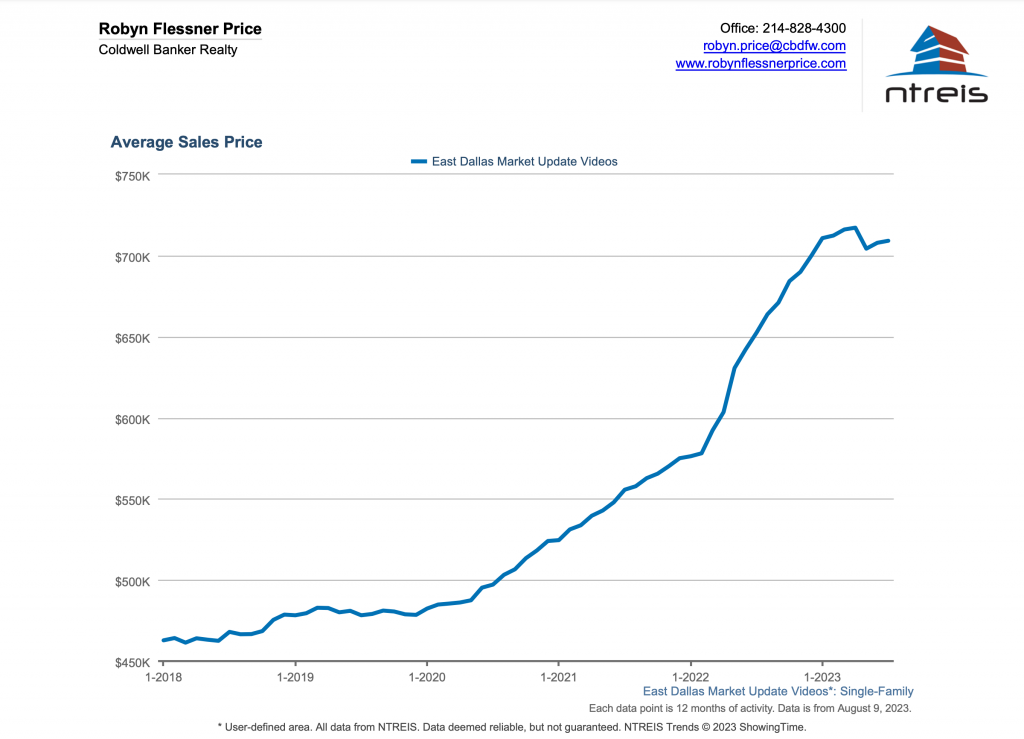 List Price to Sale Price Ratio 
In July, the average list to sale price ratio was 96.8 percent. That simply means that on average, homes were selling for 96.8 percent of the seller's original list or asking price. That's a slight drop from 97 percent in June, and 99.8 percent in July of 2022, but it is also still very healthy.
When we talk about how much homes are selling for in relation to their original list price, you may be wondering about how often homes sold at their original list price, or higher.
Well, in July, 166 sales were recorded and more than half of these sales were at or above the seller's original asking price.
How Many Days Did it Take to Sell a Home in July? 
On average, it took 27 days for an East Dallas single family home to sell in July. That is pretty much the same as June of this year, and up slightly from July of 2022 when it took 20 days on average to sell an East Dallas home. 
I anticipate that home sales will take a little longer as we move into fall, but that's a typical seasonal change that happens every fall as people shift their focus from home buying and selling, to getting back to school and work.
What About Mortgage Interest Rates?
If you're thinking about buying real estate in the near future, mortgage rates are hovering in the low-7 percent range for a 30-year, conventional loan, and jumbo rates have been about the same for the past 3 to 4 months. 
Interest rates move up and down depending on the most recent economic news that gets released and how the market responds to that news. That being said, my contacts in the mortgage market think that rates will stay in the lower 7 percent range for the near future. 
August Forecast
One of the best indicators of what lies ahead for August is to look at how many home sales are pending.
When a home sale has shifted to the "Pending" status, it means that the buyer and seller have met their contractual terms and they're simply waiting to close. 
Right now, there are 75 single family home sales in East Dallas that are pending. This is about half of the number of sales that were pending during the same time last year. That drop is not of great concern to me, because for the majority of this year, total sales have been about half of what they were in 2022.
On average, these homes have been on the market for 30 days before going under contract, which is about 10 days more than August of 2022. 
I'll be able to tell you more about these sale prices in next months update. For now, I can tell you that August list prices are very much inline with the average East Dallas list price for July. 
Rundown
Supply or inventory remains low, which favors home sellers.

The average sale price was down from June, but still higher year-over-year.

Multiple offer situations are still happening, but a seller may receive 3 to 5 offers rather than 10 to 20. 

More than half of the homes that are listed, sell at or above the seller's original asking price.

In July, it took about 27 days to sell a home in East Dallas. That number will likely go up as we move into fall, like it does every year.

Fall market activity will depend on the quality of the listings that come to the market and how buyers respond to interest rate stability or fluctuations. My prediction is that we will continue to see pops of activity from week to week as local and out of state buyers continue to search East Dallas for their dream home. 
Final Details
As you process this information, it's really important to understand that macro-level statistics really only scratch the surface of market activity. The bottom line is that whether you're buying or selling, your situation is unique and a general market update should be taken with a grain of salt. 
If you want an accurate market analysis for your home or you're thinking of buying and want to know where hidden opportunities may lie, you can either request a free no-obligation market evaluation or book a call with me to have a no-pressure conversation about your options. 
I'll always just give you the straight goods so that you're informed to make the best decision that's right for you, based on your personal situation. 
If that would be helpful, contact me directly so that we can set up a call. Otherwise feel free to check out my other blogs and videos and I'll be back next month with another update.