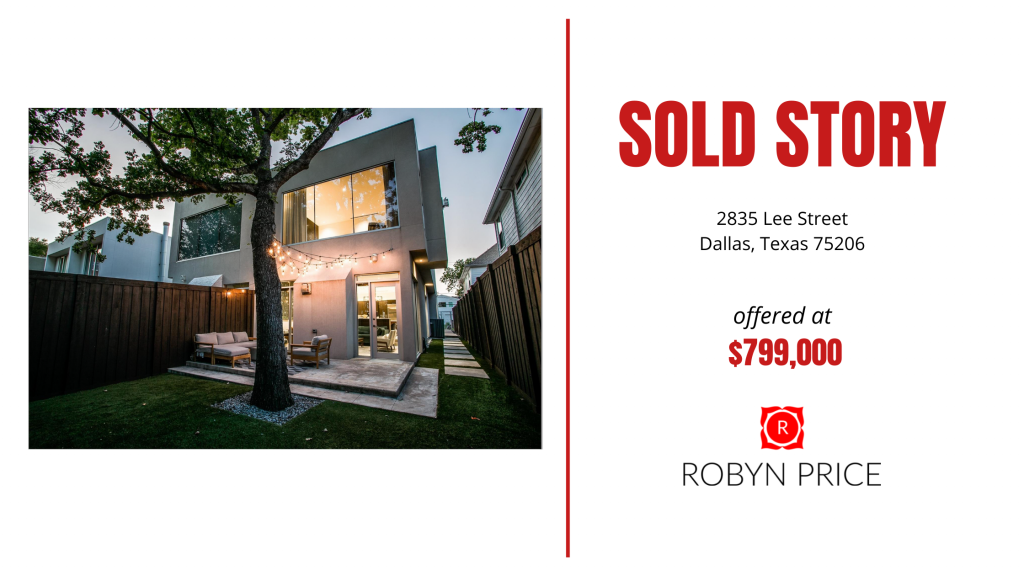 This is a success story with valuable information for a home buyer and/or seller. It's about a listing that that my buyer-client put under contract, almost immediately, once it was priced correctly.
What the home buyer did right
My client, the buyer of 2835 Lee Street, was a dream to work with for a few reasons. First, he's a repeat customer. We've worked together twice before. Both of those transactions were leases.
This was not his first home purchase, so he had some experience with the process. The first thing he did was get fully prequalified by a lender. The reason this is so important for home buyers is because you need to know how much house you're approved to buy. Getting pre-approved at the beginning of the process also helps home buyers understand how much they want to spend on a house. The amount you're approved for and the amount you want to spend are two different things. Every home buyer needs to know the difference.
The next advantage that he had was that he knew what type of house he wanted to buy and where he wanted to buy it. He looked at a lot of properties online and drove the neighborhoods.
Lastly, he called me, his trusted real estate advisor. We discussed the advantages and disadvantages of the properties that interested him. He wanted a modern, two to three-story town home or condo, in East Dallas or Oak Lawn, and it had to have one or more outdoor spaces. The outdoor space was important because he had worked from home throughout the pandemic without a private outdoor space. That would make me feel a little confined too 🙂
Disadvantages
You might be asking yourself, "Robyn, what are the disadvantages here? He's pre-approved and knows what he wants!" I'll tell you. The modern, town homes and condos that have been built in East Dallas and Oak Lawn usually have a flat roof. If the roof is not installed or maintained properly, it will be susceptible to water penetration. Additionally, these homes usually have a stucco exterior. If the stucco is not installed properly, especially around the windows, water penetration will be an issue.
Almost every unit we looked at had signs of water penetration around the windows. One of the properties that we looked at was tenant-occupied, and we ran into the tenant as we were leaving the showing. I asked him, "It looks like there have been some water issues with the property. Can you tell me more about that?" Without hesitation, he told us about every water leak that he knew of, and what the HOA was doing to address is.
My client was beginning to question his desire for this type of property. I was concerned that he would get discouraged, but he was pretty motivated. We continued the search.
Home buyer pro-tip
If you are considering a multi-story property with a flat roof and/or stucco exterior, you might be better off buying one that is a condo. Here's why. If you buy a property where the ownership is single-detached or town home, you are responsible for all issue related to the interior and exterior of the property. If you buy a property where the ownership is condo, you are responsible for issues related to the interior and the HOA is usually responsible for issue related to the exterior. Be sure to read those HOA docs thoroughly. Speak with the HOA management company or president if you have questions.
Check out the Buyer Resource page on my website to learn more about setting yourself up for success.
What the home seller did right
2835 Lee Street had been on the market for a week before my client discovered it. It was listed on July 7, 2020, for $849,000. The price was reduced to $799,000 on July 14th. This was the first thing that the seller did correctly.
Most home buyers search for properties in $25,000 and $50,000 increments. Dropping the price $5000 or $10,000 would not have made any impact on the pool of buyers who saw the property. However, dropping the list price to $799,000 introduced the property to home buyers searching up to $800,000. The price correction moved the home into my client's desired price range.
Home seller pro-tips
There is a sale price range for most listings. Not one specific price. If the price range greater than $25,000, ask your agent to find out which houses are getting the most activity. It's a simple report an agent can run through the service that schedules showings. The idea here is to price your home in the range that will appeal to the highest number of buyers.
Click here to learn how I market and price properties to attract the most buyers.
Most sellers want to list their home at the high-end of that range because they are afraid that they will leave money on the table. Work with your agent up front to determine when you will drop the price, if needed. The timeframe should be based on the median or average days on market in your neighborhood.
Transactions close when buyer and seller wants and needs align
My client and I visited the open house at Lee Street on July 16th. It's always a good idea to have an open house when there is a price adjustment.
My client knew that this property was "the one" almost immediately. He sent me on a mission to run comps and find all the information that I could on the property.
I sent him a copy of the seller's disclosure and their previous inspection report. There had been some previous water penetration through the roof, but it had been repaired and there were no issues since the repair. The seller provided the invoice that addressed the repairs.
My evaluation of comparable sales indicated the value to be somewhere between $800,000 and $825,000. The seller was clearly very aggressive with their price drop. It paid off. My client made a good offer the same day as the open house. The seller accepted the offer the next day.
The property inspected pretty well, but we did negotiate about $5000 in seller concession for a few repairs to the HVAC and garage door. The property appraised for contract value, and all parties closed 30 days later. Easy-peasy!!
Price drops and current market conditions
If you're concerned about the seller taking a big hit on their proceeds with the price $50,000 reduction, rest assured, the seller still made a healthy profit. After all, they purchased the home from the original owner in 2020 and sold it in 2022 for about 17 percent more than they paid for it. That's healthy appreciation!
Price reductions and seller concessions are becoming more common. About 45 percent of the homes listed for sale in July had price reductions. This does not mean that the market is crashing. It means that price appreciation is slowing. Click here for more information on all of that.
If you have more questions about this sale, buying a home, or selling a home in this market, please let me know. I would love the opportunity to earn your trust and business!