So, you're ready to buy a house, and you think kids could be in your future, so you want to be sure you get into a "good school district" but you absolutely do not want to move to Dallas' outer suburbs like Plano, McKinney, Frisco…or anywhere that puts you closer to Oklahoma than Dallas. 
This video and blog build on my other recent post about the costs of living near White Rock Lake. Today we're going to talk about elementary schools in the neighborhoods around White Rock. More importantly though, if you read or watch to the end, you'll learn something about the Dallas Independent School District (DISD), that most people in Dallas do not even realize. And, it just may change your perspective on where you "need" to buy to get into a "good" school district.
Lakewood Elementary School
Let's talk about Lakewood. Lakewood has kind of become the East Dallas's version of the Park Cities. Many people who live in Lakewood send their children to the DISD schools within the neighborhood feeder pattern. In fact, the number of parents looking to send their kids to Lakewood Elementary exceeds the capacity of the school. Parents who send their children to Lakewood Elementary are highly involved with the school and it is ranked as Exemplary by the Texas Education Agency. For more detailed information on Lakewood Elementary, visit the school's website. And more importantly, if you think you want to send your child to Lakewood Elementary, visit the campus and meet with the principal!
Sanger Elementary School
Sanger Elementary serves the  neighborhoods of Forest Hills, Little Forest Hills and parts of Casa Linda. This elementary school offers a dual language program, Spanish and English, and the facility is being upgraded. Some of my clients in Lochwood had grandchildren who lived in Forest Hills and they were being sent to private school. Their parents decided to pull them out of private school and enrolled them in Sanger Elementary. They were very pleased with their decision from the standpoint of the quality of education at Sanger and financially.
Hexter Elementary School
Hexter Elementary serves the Old Lake Highlands and Eastwood neighborhoods. It is a highly sought-after elementary school and many people in the neighborhood send their children to Hexter. Again, the parents are very involved in the school. It is also an exemplary school and has been named a National Blue Ribbon School of Excellence.
Reilly Elementary School
Reilly Elementary serves the Lochwood neighborhood. Lochwood parents and the community in general are highly involved with the school. This school is on the rise and has improved from Academically Acceptable to Recognized for the past two years. Through a recent bond election, the Reilly campus will be updated in the near future, which is exciting for the students and the neighborhood. 
Fun Unknown Fact About DISD
So, now for the tidbit of information that's probably the most important if you're thinking of buying a home anywhere in Dallas. Are you ready? …. 
Dallas ISD, is school of choice. That means that you don't necessarily have to send your children to the schools in your neighborhood feeder pattern. I know. It's a game-changer. This change came about a few years ago when the district realized that they had to compete with charter schools moving into the city. The district needed to offer a model that could compete with shiny new charter school facilities and give the people of Dallas another choice for public education.
Learning opportunities within DISD includes STEM schools (schools that focus on Science, Technology, Engineering and Mathematics), Performing Arts, Single Gender Schools, International Baccalaureate, Montessori, Magnet Schools, Talented and Gifted and more. These specialty schools are also offered from elementary through high school in many cases. 
People are taking advantage of this opportunity. Forty percent of DISD students do not attend the schools within their own neighborhood feeder pattern. And I've even heard of people from the suburbs trying to use fake addresses in Dallas  to get their kids into specific DISD schools. 
Additionally, administrators from other school districts around the US have come to Dallas to learn how DISD implemented this new approach to public schools and school choice. 
The school of choice program is outlined in detail on the DISD website so you can check it out for yourself. Click here to view school choice options.
Once you narrow down your choices, I always recommend meeting with the principals of the schools you think will work for your kids. They can help you make the best choice for your kids and their learning needs.
What's Next?
Now that you know that Dallas ISD is a School of Choice District and that you have more school options than you thought, then you may want to check out my other blog.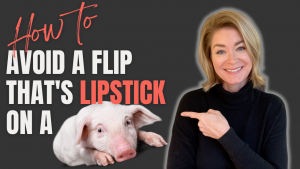 It is a fact that a lot of the housing stock in and around White Rock Lake is older. If you're looking to purchase a home that's turn key, meaning all of the surfaces have been remodeled and it's move-ready, then you're probably drawn toward homes that have been flipped. This blog give you my top nine tips for avoiding a flip that's lipstick on a pig. 
Thanks for stopping by! If you have any questions at all about real estate around White Rock Lake, reach out to me directly. I truly believe that an informed home buyer is the best kind of home buyer.