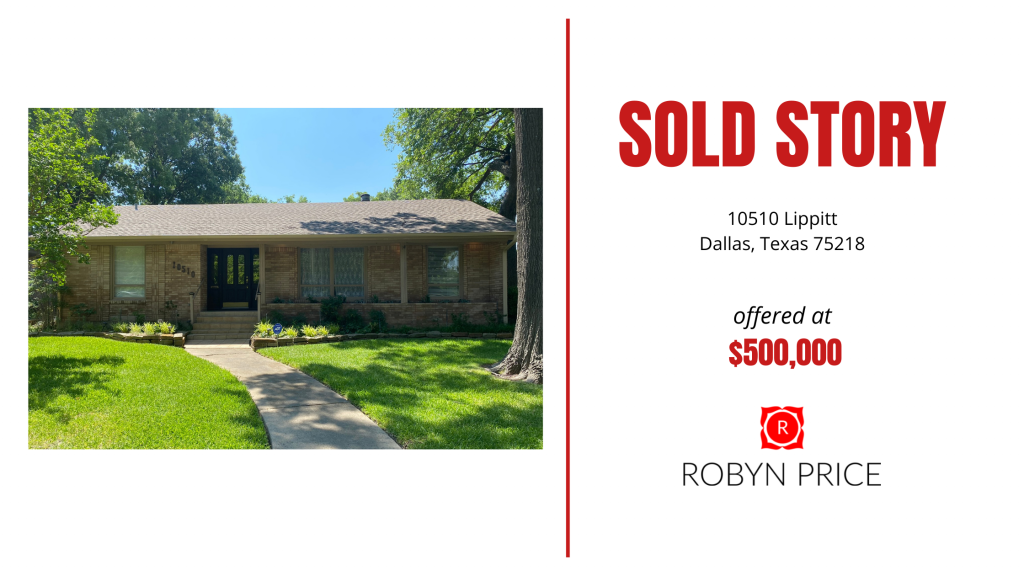 This is a long success story about selling a Lochwood home, 10510 Lippitt, during summer and fall of 2022. As always, I will provide valuable information for home sellers and home buyers. If you happen to live in Lochwood and drive down Lippitt frequently, you'll want to read this blog so that you can get the full story for yourself instead of relying on gossip from the neighbors. Get a cup of coffee or glass of wine because I'm about to give you the full lowdown. It's going to take a minute! Please enjoy.
Getting to Know One Another
It all started in May of 2022 when I was contacted by the owner of 10510 Lippitt. He called in response to a postcard I had mailed asking homeowners if they know the true market value for their home.  The owner told me that he wanted my opinion of value because he planned on selling the property soon. I asked a few questions, like I always do, and set a time to meet with him and his wife.
Meeting the Client
A few days later, we met in person. He walked me through the house so that I could see the floor plan and gave me a few more details about the condition of the home. He wanted to get right down to business so we sat down to discuss numbers. There were 3 very comparable sales within that past 90 days that ranged from $485,000 to $500,000. Because I know the neighborhood so well, and because I had spoken with him about the condition of the property before we met, I felt very comfortable telling him that this would be the price range in which his home would likely sell.
That's when he told me that he wanted $580,000 for the house and that he wanted me to leave. I was shocked! I've had people disagree with me on value but I've never had anyone tell me that they wanted me to leave without any further discussion. Since we were so far apart on the value, I decided it was best to go. It's not like we were $15,000 to $25,000 apart on a number. We were $100,000 apart.
Return of the Client
I walked away thinking that I would follow up in a few weeks, but that more than likely, he would end up hiring another agent who would tell him that $580,000 was a realistic price for the house, even though there was literally no data to support that value. If you're surprised to hear that an agent would do that, don't be. I see it happen all the time. There are agents out there who over promise and under deliver on a regular basis. I am not one of those agents. I do not mislead my prospective clients in order to win their business.
Low and behold, three weeks later I received another call from the home owner. He told me that he wanted to hire me and that the reason I was hired was because I had held my ground with him. We signed the paperwork immediately, and because he had already held an estate sale and vacated the property, it was listed immediately.
Know the Market, Likely Buyers, and their Tactics
I work with a lot of sellers who are the original and only owners of their home. That was the case with the seller of 10510 Lippitt. He and his wife had purchased the home from the builder in 1959 for $18,750. Can you imagine paying $18,750 for a 1900 square foot, 3-bedroom, 2-bath home with hardwoods throughout?! It's kind of mind blowing.
The house had been very well maintained. The water heater, HVAC and roof were all newer, or less than 6 years old. The foundation appeared to be in good condition as was the exterior of the house. Today's buyer would want to open up the floor plan and remodel the kitchen and bathrooms. How do I know this? Because I not only work with sellers, I also work with buyers of all ages and I understand their aesthetic preferences.
This type of home would typically sell to an investor who would flip it, or to an end-user who would update it themselves. End users who will update a home themselves are few and far between. Don't get me wrong, they're out there. They're just not as common as investors and flippers.
Activity and Blind Offers
Activity on the property was a little slow the first couple of weeks. That was expected since it was listed right before the 4th of July and so many people travel to escape the heat during that part of the summer. While there weren't many showings on the property, I was getting plenty of blind offers from investors.
What's a blind offer? It's when I randomly receive an offer via email from someone who has not actually visited the property. How do I know they've not visited the property? Because to access the property, buyers have to schedule a showing and I receive an alert every time a showing is scheduled. I can also check to see who accesses the electronic lock box. Yet another benefit to working with an agent – you know who is going in and out of your property!
Blind Offer Disadvantages?
What's wrong with a blind offer? Well, there's nothing wrong with a blind offer except that these people have no idea what they're buying because they've not physically inspected the house. Usually they're only running valuation models to determine what they can sell it for after its remodeled. It's all a numbers game. Part of the numbers game is also knowing what you need to put into a house. I've worked with enough investors to know that you really need to walk a property in order to put together your remodel budget. For this property in particular, I knew there was value in the newer roof and mechanical systems, and that value should be reflected in any offer.
The other reason that I don't put a lot of value on blind offers is because the buyers often fail to include proof of funds, or I cannot verify their pre-approval letter. Yes, buyers do have to "show me the money." If a buyer can't prove that they can close the transaction, then there isn't much value in their offer. I've literally seen this hundreds of times.
Finding the Right Buyer
While I was fielding blind offers from Busch-league investors, I was also reaching out to investors who I knew had a good reputation and who could close the transaction. One new investor popped up on my radar. They had recently closed on a sale around the corner on Cimarec. I contacted the listing agent to get a feel for his experience of working with the investor and he said it had been good, so I decided to reach out on behalf of my client.
When I called, the investor's representative answered the phone. That's always a good sign! Seriously! You have no idea the number of agents I call who don't answer their phone and when it rolls to voicemail, the message says that their voicemail is full.  It's annoying :/
I learned that this investor was interested in the property and that they were funded by Goldman Sachs. He told me about their process and scheduled a time to go and look at the property. Since I live around the corner, I decided to drive by during his showing to confirm that he did indeed look at it. A day or two later, I received a solid offer, with proof of funds to close. Seller executed the contract.
Moving Forward!
The buyer inspected the property and was satisfied with the condition of the home. In fact, he was so satisfied that he didn't even ask for any price concessions or repairs. We prepared to move forward.
At this point, I wish that I could say that buyer and seller closed 21 days later and that everyone lived happily ever after, but that's not what happened. Unfortunately, the buyer terminated the contract because the investment committee decided that they had too many properties in their pipeline and that they would have to hold the property longer than they originally anticipated. Side note: If there weren't issues with the supply chain for materials, or a shortage of labor to work on these homes, the hold time would not have been impacted.
I put the property back on the market immediately.
Let's Try This Again
The second time that the house came onto the market, there were a lot more showings and fewer blind offers. In fact, within a few days, I received a phone call from an agent who had showed the house. Her clients were end-users who were looking for a property to remodel for themselves. They were so interested in buying a home that needed to be remodeled that they actually viewed it with their contractor. To top it all off, they were pre-approved by a quality local lender, and their loan officer called me to tell me how great they were. The only hiccup was that they were getting a construction loan, so it would take 5 weeks to close, as opposed to a standard 30-day closing period.
I received their offer later that day. It was a good offer that was very much in line with the comparable sales that the seller and I had discussed at the end of May. Seller executed the contract.
Buyer had the property inspected. Again, it inspected well  but they did ask for a minor concession and seller agreed.
Moving to Close
A week later, the appraiser came out to visit the property. I provided her with information on the house, and the list of comparable sales that seller and I had used to price the house. Side note: I almost always provide comps for appraisers, even when I know that the contract price is supported by recent comparable sales. There's no need to leave it to chance and I consider it part of my job in representing the seller's interests. 
A few days later, I was notified that the appraisal met the contract value. Yay! Check off another milestone on the road to closing!
The following week I had the title company contact the buyer's lender to confirm that lender was prepared to close. Lender confirmed that buyer had received the clear to close. Yay! The final milestone in the transaction process had been achieved.  At this point, there were no "outs" in the contract process for the buyer.
Moving Backwards
Given that we were at the finish line, you can imagine how shocked I was when I received a phone call from the buyer's agent, less than a week before closing, notifying me that the buyer wanted to terminate the contract. WHAT!? WHY?!
Apparently one of the buyer's parents had a medical event and they just didn't think that they would handle that while buying or remodeling a home. Honestly, seller would have been more sympathetic had we not learned that buyer still managed to take their 2-week vacation to Hawaii while their parent was still in Dallas recovering from this health issue.
At this point, buyer did not have a termination option based on the terms of the contract and seller was entitled to their earnest money or deposit. I cannot disclose what happened to those funds, but the buyer did terminate and I put the property back on the market immediately.
The Third Time is a Charm, Right?
The seller was obviously very disappointed at this point and I was concerned that he might fire me. Honestly, I've never had a house go under contract twice and not close. I'd never even experienced a buyer terminating a few days before closing.
Nonetheless, the house wasn't on the market for long before it went under contract again. This buyer was also an end-user. She wanted to remodel the house for herself so that she could be near her children and grandchildren who lived in Old Lake Highlands. She was an experienced home owner, pre-approved by a quality lender, and she was motivated. In my 10-plus years of selling homes, I know that being near grandchildren is always a big motivator.
Uneasiness and Anxiety
Unfortunately, I started to feel uneasy about this buyer when she called me after the inspection to tell me all of the things that were wrong with the house. Wait, what? The house had been inspected two other times and there was one plumbing leak in the crawl space. When the buyer started acting as though she was going to have to have a major concession from the seller, I knew she was full of it and got in touch with the first buyer again.
I wanted to see if anything had changed with their pipeline and if they were still interested in the property. Indeed they were and a few days later I received another solid offer from buyer number one, the investor funded by Goldman Sachs.
I "encouraged" buyer number 3 to terminate her contract because seller was not going to give her one dime in concession. Buyer number one was back and was prepared to close!
Sale Closed and Funded
A few weeks later, seller closed the sale with buyer number one. This was a satisfying conclusion to selling 10510 Lippitt, and makes a great success story.
I have never had a property go under contract four times to three different buyers. I'm sure that crazier things have happened, but they've not happened to me….until now.
I am grateful that the seller trusted me and stuck with me. I have to believe that he saw how hard I was working on his behalf and that he knew I had no control over some of the issues that came up during the listing.
In hindsight, I think it's easy to see that these things happen more when the market is in flux. Higher interest rates have buyers thinking that there is blood in the water and that sellers are desperate. The truth is that some sellers are more motivated than others. I encourage anyone who is selling their home right now to be patient. Make sure your agent knows the competition and that they are in contact with those listing agents to see what's going on with their listings. That's the real-time market intelligence that sellers need right now to make informed decisions about flakey buyers who think they're going to be opportunistic. Not on my watch!
Be well and have a wonderful holiday season!