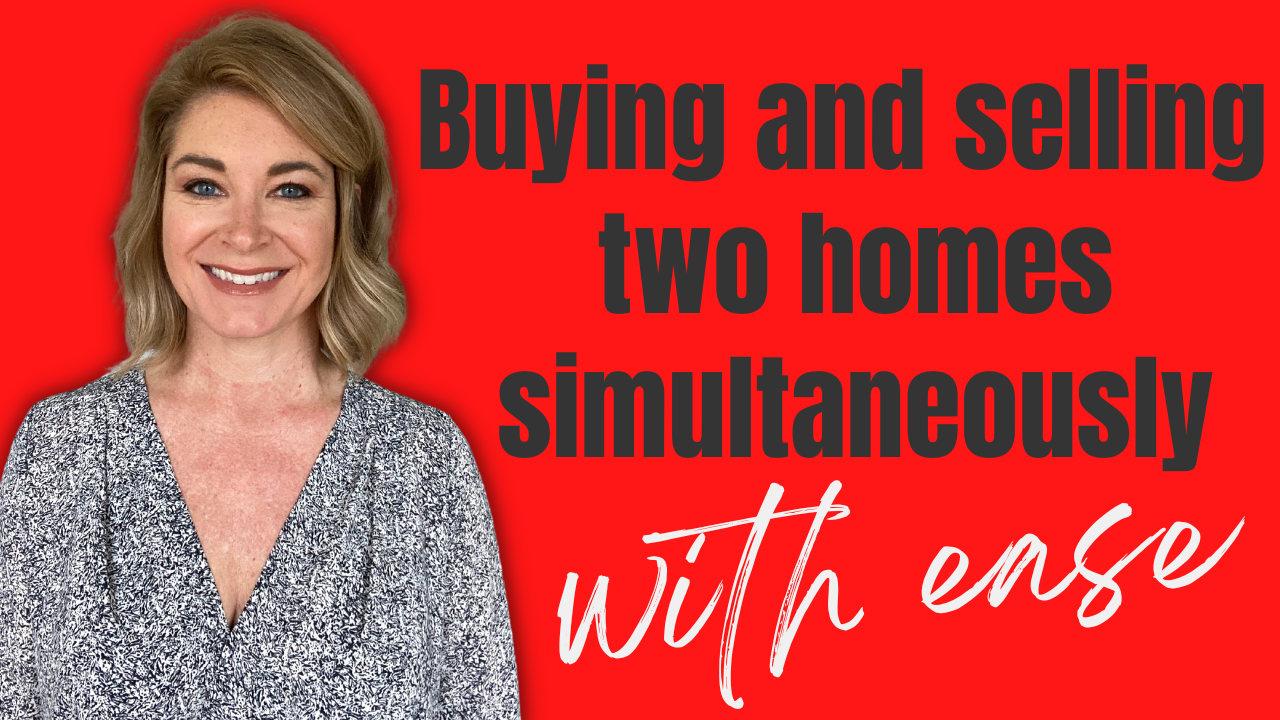 Have your current living conditions changed to the point that you're ready to do something about it? Do you need a home with more space or less space or space that's just more functional for how you live now? 
For whatever reason, you're ready to make a change but you're not sure how to go buying and selling simultaneously. 
I'm here to help! In this post, I'll break down four ways for you to buy your new dream home and sell your current home, with as little disruption to your life as possible.
As always, you can continue reading, or watch it on YouTube by clicking here.
Where or How Do You Start?
There are two factors that must be considered before you get too far down the road of making this change.
Consideration #1
How much supply is in the market? How many buyers are in the market? 
When the market is tight, meaning there is little supply and a lot of demand, it's probably more advantageous to use Options 1 and 2.
When there is more supply and less demand, Options 3 or 4 might be a better strategy.
Now, when I recommend that you're aware of market conditions, I am not talking about what you hear on the news or read about the national real estate market. 
If you've been reading my blogs or watching my educational videos on YouTube for a while, then you know that residential real estate is extremely hyper-local. 
To make this change with as little disruption to your life as possible, you need current market information about what is happening in your current neighborhood and the neighborhood that you want to move into. That means that you need to consult with a local market expert. 
Consideration #2
The second factor that you must consider is your financing….that is, if you're not paying cash for your next home….which most people do not….you need to know what financing options are available to you. 
I'm not talking about what interest rate you'll pay for a new home, although that is important.  I'm talking about knowing what loan products are available to you that could make this transition a lot easier and help determine which of these four approaches you take.
I'm not a loan officer, so I am not going to get into the nitty gritty details of each of these products, but I am going to let you know that they're out there. If you're interested in speaking with a loan office about what options are available to you, I will connect you with a preferred lender. I actually have several clients who are buying and selling simultaneously right now.
Option One
Option #1 is the most convenient way to make this change. 
First you buy. Then you move. And then you list your previous home for sale. 
This approach is the most convenient because it allows you to focus on one aspect of the transition at a time. 
You don't have to worry about getting the kids or dogs out of the house for a showing while you're living there, because you've already moved. 
How does the financing work with option one? Well, if you are still carrying a mortgage on your first home, then you would need to qualify to carry two mortgages at the same time, until your previous home sells. 
Option Two
Option two is to utilize bridge financing.
A bridge loan is often used when a buyer doesn't qualify to carry two mortgages at the same time. 
This option works a lot like option one in that you purchase your new home, move into it, and then list and sell your previous home. 
What's different about it is the financing component. Bridge financing allows you to make interest-only payments on your new home, while you continue to make the full payment on your previous home, until it's sold. Once your previous home sells, you refinance the bridge loan into a conventional mortgage loan product.
Those are options one and two. If your lender determines that you cannot be approved to buy then sell, or if you don't like the idea of carrying two mortgages at the same time, then you will want to explore the next two approaches to getting into your new dream home.
Option Three
Make the contract for the purchase of your next home contingent upon the sale of your existing home. 
In this scenario, it is best for you to start preparing your existing home for sale before you start shopping for your new home. 
That may seem backward, but the reason that I recommend it is because the seller of your next home is going to want to know that you're getting your existing home on the market ASAP.  In fact, we can even have the photographs of your existing home taken, and the marketing materials prepared ahead of time. Also, in our local MLS, we could go ahead and list your existing home as Coming Soon. 
Taking these actions helps assure the seller of your new home, that you are truly ready to get your existing home on the market, under contract, and sold so that you can close on their home. 
The contingency for the purchase of your new dream home will need to have a specific sale date for your existing home. Again, make sure you're up to speed on how long it's taking for the homes in your neighborhood to go under contract and close. Your realtor should provide you with this information. 
Option Four
List your current home for sale, get it under contract, and then find the house that you want to buy.
The question that people always ask when we're discussing this scenario is, "Robyn, what do I do if my house sells and I haven't found a place to buy?" 
Well, that's a legitimate concern. No one wants to feel forced to buy a home that they don't like. 
If this is the strategy that you take, then you need to do two things:
First, you'll need to get as much of a leaseback as you can from the person buying your current home. 
What's a leaseback?
A leaseback designated amount of time that the buyer leases your home back to you after they close on the purchase. This gives you more time to stay in your home and find your next home.
It's imperative that your agent negotiates the terms of the leaseback before you execute a sale contract. There's no point in getting into contract with a buyer who needs to move into your home immediately. 
The second thing that you will need to do is understand that you may need to find temporary housing while you search for your new home. I have had clients who stayed with family, or leased a short term rental while continuing the search for their new dream home.
I realize that most people do not want to move twice, but it's best to be prepared. 
Summary
Okay, so Here's a summary of the four approaches to buying and selling simultaneously:
Option 1 – Buy and move into your new home, then list and sell your existing home. This means paying two mortgages until your first home sells. 
Option 2 – Buy your new home with bridge financing, move into your new home, and then list and sell your existing home. Bridge financing allows for interest only payments on your new home. Once the old home sells, you refinance the new home into a conventional mortgage.
Option 3 – Make the purchase of your new home contingent upon the sale of your existing home. Plan on having your existing home ready to list as soon as you get the new house under contract.
Option 4 – Sell your current home, then start shopping for your new home. Have a plan in place for short term housing if you can't find your new dream home immediately.
Ultimately, the approach you take will depend on your options for financing, and current market conditions. 
Mistakes to Avoid
To make this transition as smooth as possible, it's best to make sure you work with an experienced loan office and realtor. Know your options for financing, and know what the market will bare for your specific situation.
Make sure that you determine your strategy before you start looking for your new home. There's nothing worse than going to an open house and falling in love with it, only to find that it's out of reach for whatever reason.
I've said it before and I will continue to say it. Informed and prepared home buyers and sellers have the easiest time making this change, whichever option they choose. Empower yourself with information and a plan so that you can make the best decisions for you and your family.
That's all for today!
Next week I'll release a new video/blog that addresses the second question I'm most frequently asked by people who want to sell their home.
How to Prepare Your Home so that You Get Top Dollar in Any Market
Feel free to send me any questions that you have about real estate. I always respond, and if I don't have an answer, I will find it for you.
Have a great day and I'll see you next week!