Almost every home seller I meet with starts the conversation with a statement and then a question. First they let me know that they want to get top dollar for their home. I want them to get top dollar too! Second, they ask me what they need to do to get their home ready to list. Since this question gets asked so frequently, I thought I'd write it all down. In this blog, I'm sharing 11 tips to help home sellers get top dollar in any market.
Keep reading or click the YouTube video below to see real-life examples of home preparation best practices.
Tip #1 : It All Starts with Mindset
Commit to setting aside your personal preferences and how you live in your home, and put yourself in the position of the person who will likely buy your home. 
Why? Because In order to sell your home for top dollar, you want buyers to have a complete sensory experience so that they can see and feel themselves actually living in your home.  
Here's how to do that…..
Tip #2 : Merchandising Your Home Brings Top Dollar
If you've lived in your home for a while, you've probably accumulated a lot of stuff. Haven't we all? Plan on clearing out quite a bit of it. 
For example, which closet do you think would most appeal to a prospective buyer?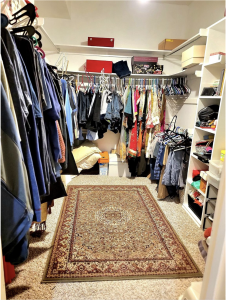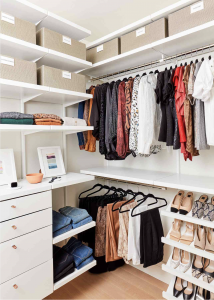 Let's look at another area of the house. What about these bathroom vanities? Which do you think would be more appealing to a prospective home buyer?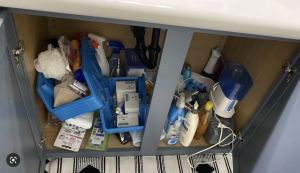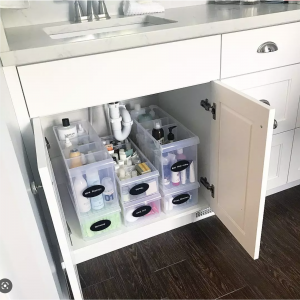 When it comes to closets, bathroom cabinets and drawers, your pantry, and kitchen cabinets and drawers, plan on removing about two-third of the items currently stored in these areas if they're packed with stuff, or get it organized in an orderly way.
Tip #3 : Decluttering is Essential
Next, go room by room with your agent to determine which pieces of furniture stay, which should be relocated to another room, or which should be removed completely. Why? Because you want to get top dollar. And in order to achieve that, the buyer has to be able to see how a room can be arranged and to get a sense of spaciousness. We don't want them to have to guess where furniture goes or to have to look past all of your stuff. 
Here's an example of a living room that's clean and well kept, but too cluttered. There are too many plants and items on the bookshelves, and the end table that's front and center in the photo, should have been removed for this photo. It's drawing attention away from the actual spaciousness of the room.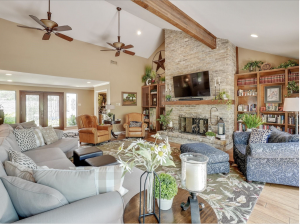 And here is an example of a living room that has been decluttered.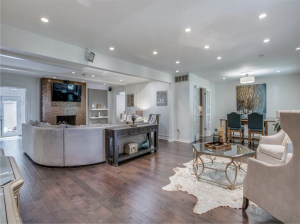 This is actually a house that I listed and sold, on Yorksprings, after it had been unsuccessfully listed by another agent. The seller removed a giant hutch that was in the dining area, and two of the chairs around the dining room table. They also removed an additional couch that was in the living area. These changes made a huge difference and made the house feel more spacious.
Need more tips on decluttering your home? Check out the blog about decluttering that I posted a while back.
Tip #4 : What about the kids' rooms?
Let's take a minute to talk about kids bedrooms and play rooms. I understand that moving can be a big adjustment for your kiddos and most parents want as little disruption to their kids' lives as possible. What I recommend is clearing out the clothes they no longer fit in, and the toys they no longer play with. And plan on having their rooms staged for the property photography. 
Here's a listing photo from a property that I sold on Gatewood. The seller really went above and beyond staging her house and this is how her son's room turned out. Isn't it adorable? Can you see how this level of detail could help a prospective buyer fall in love with this room? This seller got top dollar for their home.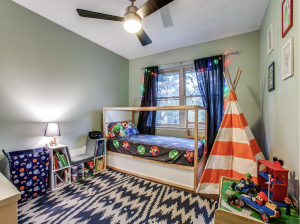 If you can have their rooms totally cleaned and picked up for showings, great. But I think that most people can look past a few toys being left out when they come and view a property.
Before we go much further, let me address another common question that I get from home sellers. 
Tip #5 : What to do with your stuff…
Sellers always want to know if they can store items in the garage while their house is on the market.
Yes! It is 100 percent okay to store boxed up stuff in your garage. In fact, it's preferable to storing items in your formal living and dining areas, like this.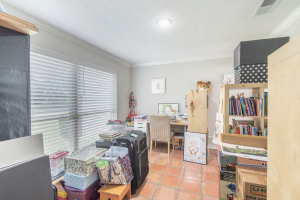 If you were looking to buy this house, do you think that you could remotely tell what size furniture you could get in this room, or how you would arrange it? Does this image evoke any kind of warm and fuzzy feeling about buying it and making it your home? Do you think that this seller is going to get top dollar? 
Tip #5 : Break out Mr. Clean
I once worked with an Ebby agent who said, "Robyn, if I can smell it, I can't sell it!"
It was funny when she said it, but it would not be fun to do all this work to get your home ready for the market, and then have potential buyers walk away because they're not sure about a smell or cleanliness.
So, now that you've got things cleared out and moved around, it's time for a deep clean. If you don't like to clean, I get it. I don't like to clean either. If that's the case, or if you don't have the time, arrange for a have a service come and do a deep clean for you. 
Tip #6 : Don't Forget About the Exterior
The front yard is the first thing buyer's see when they come to your home. 
It's a good idea to clean up the flower beds and freshen up the landscaping. Black mulch in your flower beds will really make your home pop in listing photos.
Put a fresh coat of paint or finish on the front door if it's looking worn. Again, this the buyer's first experience of your home. It needs to look and feel inviting.
Don't forget about the backyard either. Get the landscaping cleaned up and dust off the patio or pool furniture. 
Tip #7 : What About Mechanicals?
We live in Texas. Our HVAC gets a workout whether it cranked down to keep the house cool in the summer, or cranked up to stay warm in the winter.
I don't think I've ever seen an inspection report where the inspector didn't cite one or more deficiencies with the HVAC. Therefore, it is ALWAYS good idea to have your HVAC cleaned and serviced prior to putting your house on the market.
Tip #8 : The Dreaded Seller's Disclosure and Repairs
It's also a good idea review the Seller's Disclosure Notice while you're putting together your list of things to do to get your home ready to list.
This is a very detailed document that home sellers in Texas are required to provide to home buyers. It lists almost every single aspect of your home including the roof, plumbing, electrical, foundation, HVAC, insurance claims and more. Seller must check off if the items are in working order or in need of repair. You can also add detail if there are items that have been recently repaired or updated.
If there are items that are in need of repair, I recommend that you address them. Why?
Because home buyers typically estimate that repairs will cost about 3 times as much as they cost in real life. When they see items that need to be repaired, in their minds, they are deducting those perceived costs from their offer price. 
Remember, I also work with buyers and I have seen them do this with my own eyes. 
The bottom line is that you want top dollar. Do not want to give buyers a reason to submit a low ball offer.
Tip #9 : Professional Staging Brings Top Dollar
If you've already moved into your new home, plan on having your previous home professionally staged rather than leaving it vacant. The most important rooms to stage are the living and dining areas, the primary bedrooms, and have the kitchen and bathroom accessorized. 
The reason I recommend staging is because you want prospective buyers to get a sense of how they could arrange furniture and live in the space. Also, a staged property feels more like a home than a vacant property. 
These images are from a home that I sold on Farrar in 2022. The seller had vacated the property and had it professionally staged.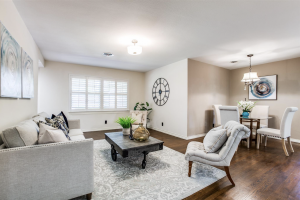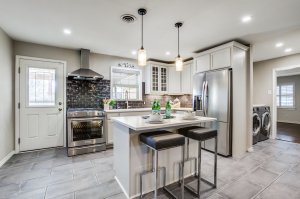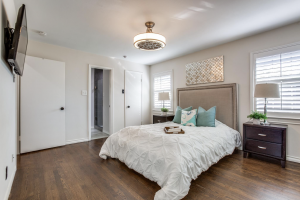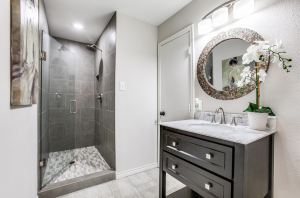 Now, You may be thinking to yourself that this all sounds expensive.
Staging can be expensive if you work with someone who has to rent the staging furniture, but if you work with a stager who owns their own furniture, it can be quite affordable and deliver an excellent return on your investment.
According to the National Association of Realtors, staged homes sell faster and for a higher price than homes that are not staged.
Tip #10 : Know the Competition
There is nothing wrong with being a nosy neighbor when you are preparing to sell your home. If we are working together, we will go and look at other home that are actively being marketed for sale in your neighborhood. Sellers need to see for themselves what the competition has working for and against them.
If you're not working with me, be sure to go with your agent and view competing properties in your neighborhood.
Tip #11 : Professional Photography is a Must
Confirm that your agent will be working with a professional photographer to shoot the photos of your home. 
People eat with their eyes first, if a buyer doesn't like what they see in the MLS photos, they will not come see it in person.
I am honestly offended when I see properties listed without professional photos. Professional photography is quite affordable and it makes a HUGE difference in marketing the home for sale.
Now that you know what you need to do to prepare your home for sale to get top dollar, you might be interested in finding out how to get into your next home with as little disruption to your life as possible. 
Until next time…..