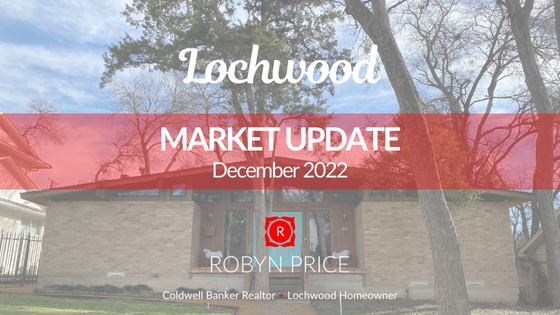 Once again, you can either watch the update on a video, or scroll down and read for yourself. Enjoy!!
If you try to stay up to speed on what's going on with the real estate market, you may be unsure which sources you should trust. After all, the national media would have you believe that the real estate sky is falling. Local publications print conflicting headlines and information, sometimes within the same issue. So, who should you trust and what should you believe? The truth is that real estate is extremely hyper-local and time-sensitive, so it's best to weight local analysis over national analysis. Let's dig into November sales in Lochwood, along with sales that will be closing soon, and what's going on with the homes currently listed for sale, so that you have the most up to date and accurate information about our neighborhood.
Be sure to read all the way to the end for an important update about 2023 property tax rates.
Looking Back: November Sales in Lochwood
The below details all of the Lochwood homes that sold in November 2022. In all, there were  3 sales. One of these homes sold for 100 percent or more of the seller's original list price (far right column). For the purpose of comparison, in November of 2021, there were 7 total sales and 4 of those homes sold for 100 percent or more of the seller's original list price.
November 2022 was an interesting month for home sales because we recorded both the highest and lowest sale prices of the year. 12123 Sunland sold for the lowest price of 2022 while 11150 Fernald sold for the highest price of the year. The home on Fernald is Mid-Century Modern architecture, which ALWAYS sells for a premium. Additionally, this home sits on a very secluded and heavily-treed 1.3 acre lot. It's truly one of a kind.

Looking Back: Year-over-Year at a Glance
The next table below gives you a snapshot of how the market performed in November of 2022 compared to the same time last year. Once again, overall sale prices for 2022 remain higher than the sale prices of 2021. It still cost a home buyer twice as much to borrow money for their mortgage: however, interest rates did start to drop in November. In fact, mortgage interest rates have dropped for three consecutive weeks. As of the first week in December, a well-qualified home buyer could secure a 30-year, fixed-rate mortgage for 6.125 percent. Analysts believe that interest rates will settle at about 6 percent if inflation continues to drop.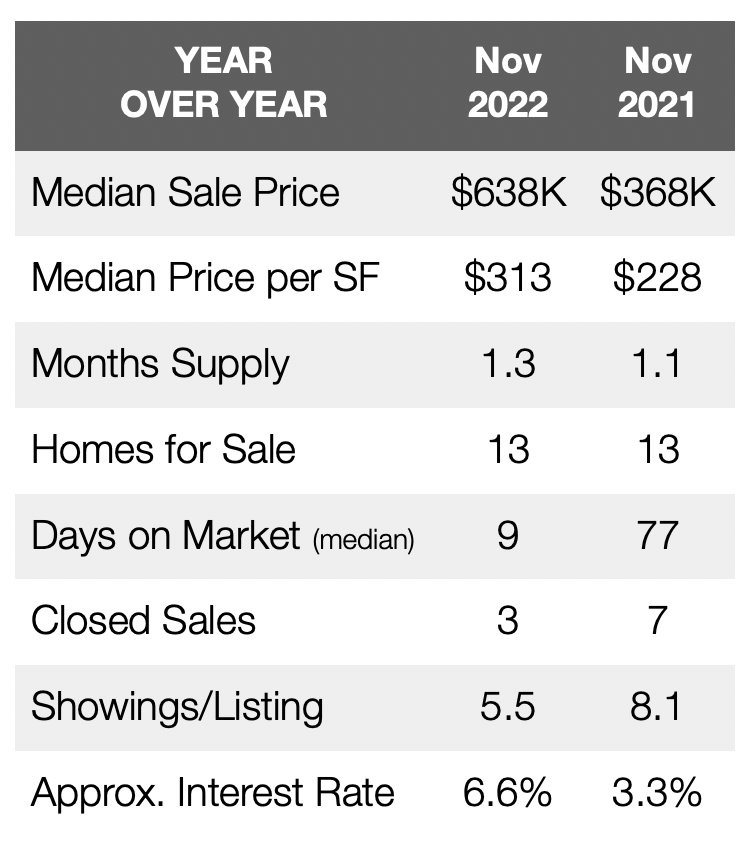 What's Happening Right Now in Lochwood? Pending and Active Listings
There are currently three home sale pending in Lochwood. One of the homes pending sale is 10815 Meadowspring. FINALLY! I've been writing about this listing for some time now. It was originally listed in the summer for $1.1M. Last month it was re-listed by a different agent for $750,000. After 25 days at that price, it was reduced to $649,000 and finally went under contract.
Looking ahead, I anticipate that we will see fewer sales in December 2022 than we did in December 2021 when 12 homes sales closed. December will likely be the second consecutive month with fewer sales, year-over-year.
There are currently 14 homes listed for sale in Lochwood. That's the same number of homes that were actively marketed for sale in November. Prices for these listings range from $359,000 to $1.2M. Ten of these listings have had one or more price reductions. 10556 Evangeline Way has been reduced by $125,000. Click here to view homes that are currently on the market in Lochwood.
Key Take-Aways
Interest rates have dropped for three consecutive weeks and analysts now believe that rates will settle around 6 percent if inflation continues to decline.
Despite lower interest rates, we will likely see buyers continue to ask sellers for a contribution toward their closing costs so that they can buy down their interest rate even lower.
If a home hasn't sold, and the property has been on the market longer than the average or median days on market, then the seller should consider offering funds toward the buyer's closing costs so that prospective buyers can buy down their interest rate. The reason that this is an effective strategy for sellers is that helping the buyer attain a lower interest rate is actually more cost effective than lowering the list price of the house. I'll discuss this in greater detail next month.
2022 sale prices are still significantly higher than 2021. I anticipate that the appraisal district will increase most homeowners' market value assessment by the full 10 percent in 2023. Ten percent is the maximum amount your value can increase if you have a homestead exemption on your property.
Our property tax rates have been set at 2.51 percent. This rate is lower than what Lochwood homeowners have paid for the past two years. Yay!!!
Thank you for your time! I hope you've found this post to be informative and helpful if you are considering buying or selling a home in Lochwood. If you'd like this update sent to your email every month, send me an email at robyn.price@cbdfw.com to let me know. You can also send me any of your other real estate related questions. I will always respond, and may even include it in a future update.
Have a wonderful holiday season!