Hello + Happy almost spring! This is your monthly update for home sales in Lochwood. As per usual, I've created a video update that you can access by clicking on the YouTube link, or you can scroll down and read the same content for yourself. Your choice! Quick reminder before you move on to the update. You should receive your Assessed Market Value from the Dallas Central Appraisal District in March or April. I am happy to help you determine whether or not their value is accurate. We'll just need to a quick phone call so that I can get some of the details about your home. On to your monthly update!
It has taken a minute, but home sales in our neighborhood market are finally starting to pick up again! Home sales started to decline in the fall of 2022, much like the rest of Dallas/Fort Worth and the US for that matter because of higher mortgage interest rates. It seems as though home buyers have accepted that they will pay higher interest rates and as a result spring market has come early in DFW. The demand faucet turned on again about mid-January. Home sales are starting to tick up and so are prices. Buyers find themselves competing with one another for the really good properties. The graph below shows the number of homes sales in Lochwood, by month, for 2021, 2022 and 2023.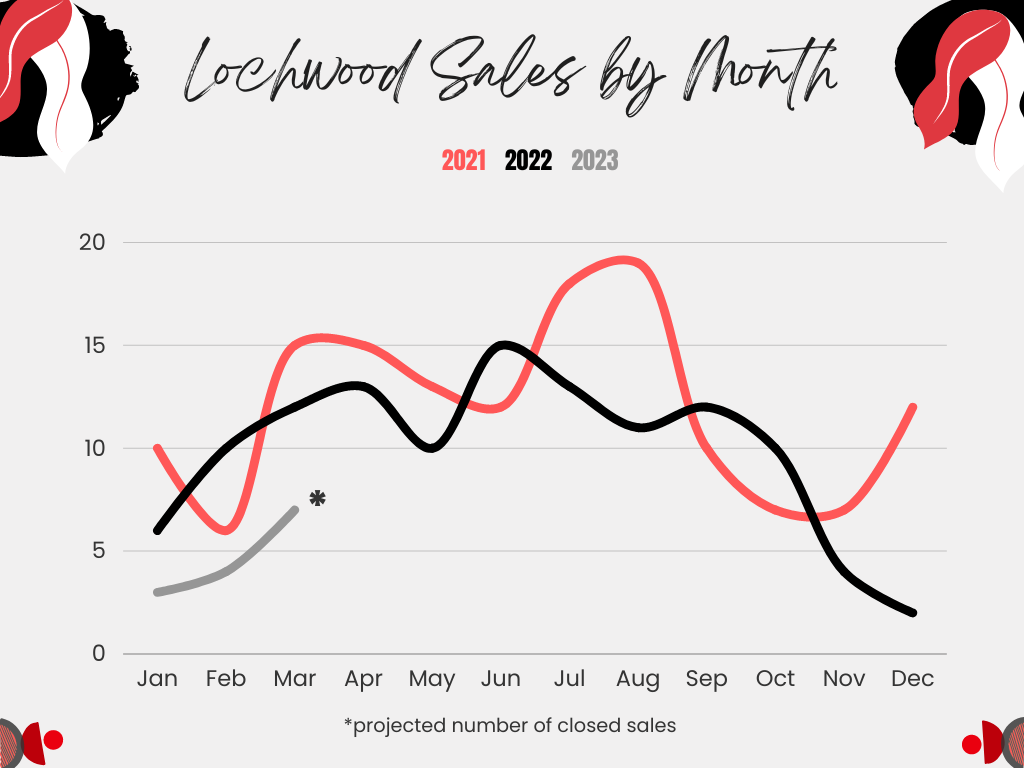 What Housing Crash?
Buyers are coming back to the market for a few reasons. First, they've come to accept that interest rates are not going to drop significantly anytime soon. Also, many are taking advantage of temporary rate buy downs. This is a seller-paid rate buy down that reduces the mortgage interest rate that buyers pay during the first two to three years of their mortgage. I'll release a blog and video that explains rate buy downs later this month. The other reason that buyers have come back to the purchase market in full force is because our local market didn't "crash" as they were hoping. The Dallas/Fort Worth housing market has not had a significant loss in value since mortgage rates increased. Smart buyers realize that they can either pay a higher rate now. Or, they can wait to buy and pay a higher rate and higher sale price later. Which would you choose?
The chart below shows the median sale price in Lochwood from February 2020 through February 2023. There was a drop in September 2022, but that was an anomaly because the overall trend line continues to rise.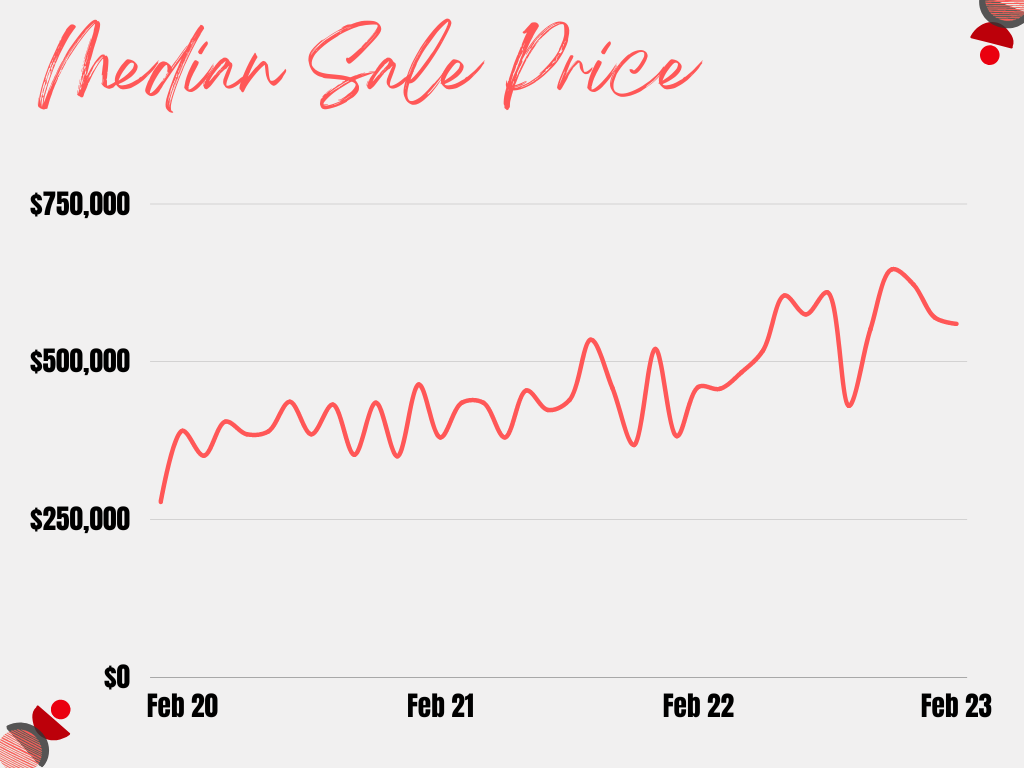 February Home Sales
There are not a lot of individual sales for me to report this month, but if you want the details of the sales that did close, they are listed below. Two of these sales had a significant number of days on market. The homes on Carissa and Rogue Way were originally listed in 2022, so they had accumulated a lot of days on market. The listing on Ridgemeadow was only on the market for eight days before it went under contract. I actually met the new owners of this home when I was walking one of my dogs this week. They're a lovely young couple and so very excited to be a part of the Lochwood community.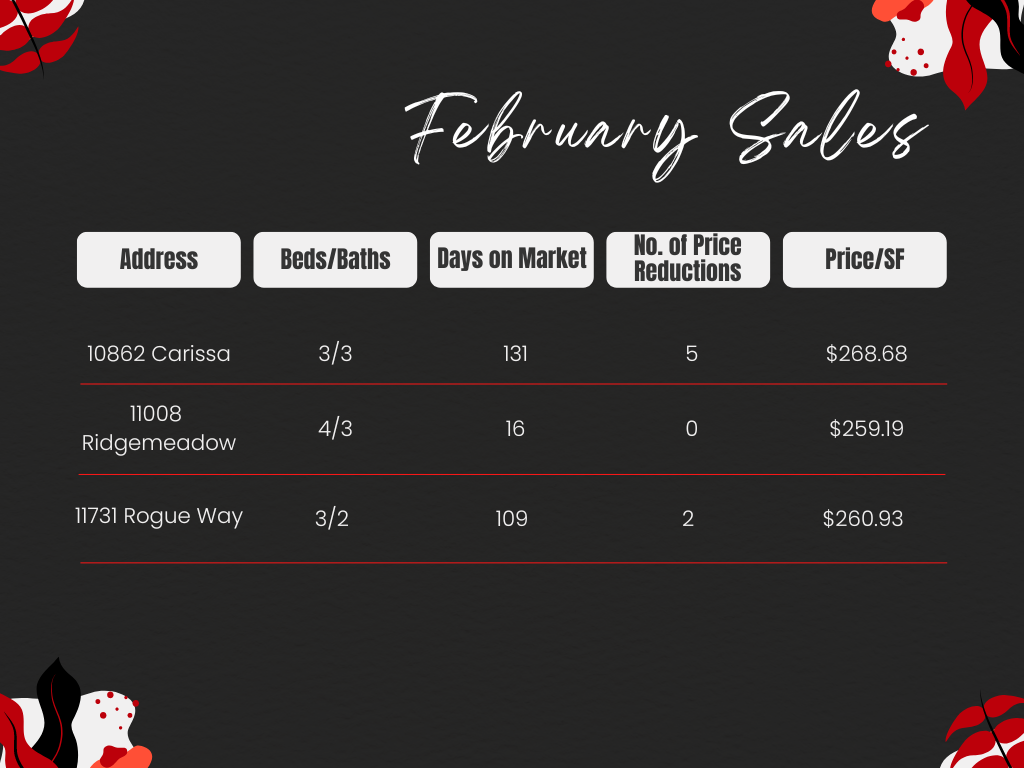 Lochwood Home Sales YOY
Year-over-year statistics are a little lackluster. Days on market may remain high for a little while as we work our way through some of the homes were listed in the fall and winter, but there are several homes under contract that will close next month, that have very few days on market. Inventory is a little higher, but 1.4 months is still well below what would be considered a "buyer's market." What's most important is that our values are holding steady. Click here to view homes that are currently for sale in Lochwood.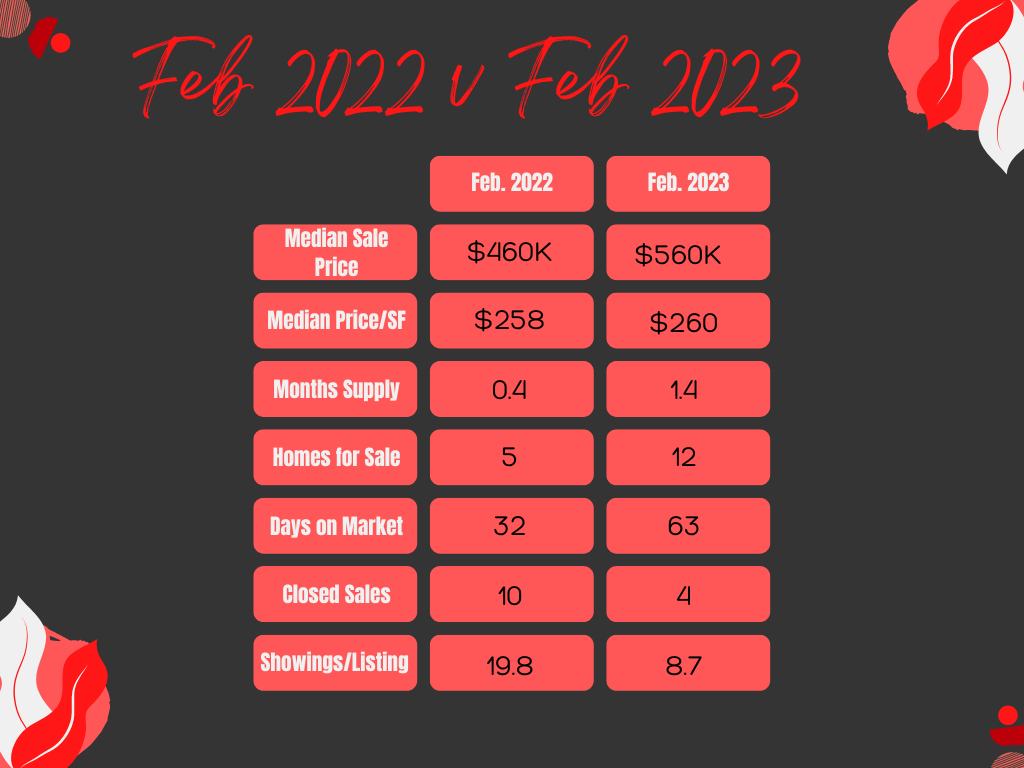 That's all I have for you this month. Reach out to me directly if you have any questions about the value of your home or the market. I am always here for you!