It's helpful to be up to speed on real estate market activity whether you own a home in Lochwood, or you're considering buying a home in Lochwood. In this market update I'll dig into the home sales that closed in December and listings that are currently pending sale and actively being marketed for sale. Be sure to read all the way to the end for the most important information: key take-aways and a 2023 forecast.
If reading a blog post isn't your thing, click the YouTube link below and you'll get all of the same information via video.
Let's get started!
Looking Back: December Sales
The table below details all of the Lochwood homes that sold in December 2022. In all, there were  2 sales. One of these homes sold for 100 percent or more of the seller's original list price (far right column). For the purpose of comparison, in December of 2021, there were 12 total sales and 6 of those homes sold for 100 percent or more of the seller's original list price.

The most "interesting" sales to close last month was at 11815 Meadowspring. This listing raised a lot of eyebrows when it was originally put on the market in mid-July for $1.1M. The house itself is nearly 4,500 square feet, which is quite large and somewhat comparable to newer construction in the neighborhood. However, the finishes in this home were not comparable to new construction. Therefore, it sat on the market until it was re-listed by another agent in October. This agent put it on the market at $750,000. After about 30 days on market, the price was reduced to $650,000, and that's when it went under contract.
Looking Back: Year-over-Year at a Glance
The next table gives you a snapshot of how the market performed in December of 2022 compared to the same time last year. Once again, overall sale prices for 2022 remained higher than the sale prices of 2021. The number of homes for sale (inventory) was similar. Days on market were up, but 22 days is somewhat "normal" by historic standards. Closed sales and showings dropped off.
It still cost a home buyer twice as much to borrow money for their mortgage, but interest rates did start to drop in November and bounced around in December. Again, read all of the way to the end of this letter for my interest rate forecast.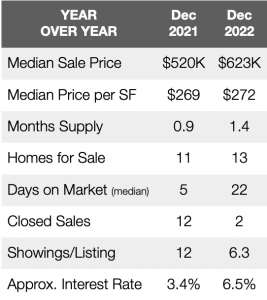 What's Happening Right Now? Pending and Active Listings
There is currently one home sale pending in Lochwood: 10556 Evangeline Way. This home was originally purchased in January 2021, remodeled, and put back on the market as a "flip" in August 2022. 135 days on market, and 8 price reductions (totaling $125,000) later, it went under contract. It should close before the end of this month.
Two other homes have sold since the beginning of the year. Both of those homes sold much more quickly and closer to the seller's original asking price than this property on Evangeline Way.
There are currently 14 homes listed for sale in Lochwood. That's the same number of homes that were actively marketed for sale in November and December. Prices for these listings range from $359,000 to $1.2M. Ten of these listings have had one or more price reductions.
Click here to view homes that are currently on the market in Lochwood.
Now, when you read about listings having hundreds of thousands of dollars in price reductions (like Evangeline Way) before going under contract, you may start to think that the market is tanking. Let me be clear. The market is not tanking!
You have to weigh the good with the not so good. Many Lochwood listings are still selling very close to the seller's original list price and with few days on market. Those that are experiencing massive price reductions were priced far too high to begin with.
Key Take-Aways and Forecast
Interest rates will continue to bounce around as the Federal Reserve works to bring inflation down. Most economic experts that I follow believe that mortgage interest rates will settle between 5.5 and 6.0 percent by the end of 2023. 

Most of the mortgage professionals that I work with report that home buyers are taking advantage of rate buy down programs. I anticipate that we will likely see buyers continue to ask sellers for a contribution toward their closing costs so that they can buy down their interest rate.

Mortgage application rates have increased since the first of the year. People don't apply for mortgages unless they're preparing to buy a home. This is an excellent indicator of a strong spring market on the horizon.

If a home hasn't sold, and the property has been on the market longer than the average or median days on market, then the seller should consider offering funds toward the buyer's closing costs so that prospective buyers can buy down their interest rate.

The reason that this is an effective strategy for sellers is that helping the buyer attain a lower interest rate is actually more cost effective than lowering the list price of the house.

I'll discuss this in greater detail next month.

2022 sale prices were significantly higher than 2021. I anticipate that the appraisal district will increase most homeowners' market value assessment by the full 10 percent in 2023. Ten percent is the maximum amount that your value can increase if you have a homestead exemption on your property.

Dallas County property tax rates have been set at 2.51 percent. This rate is lower than what Dallas homeowners have paid for the past two years. Yay!!!

The real estate economists at the National Association of Realtors ranked the top 10 performing markets for 2023 and DFW was ranked third behind Atlanta, Georgia and Raleigh, North Carolina. Yay DFW!
Thank you for your time today. I am hopeful that you can see that our market is not all doom and gloom because it is not. And, if you put off selling because you thought that the market was slowing down, you may want to re-evaluate. Inventory/supply is still very low and it looks like buyers/demand is turning around.
Please reach out if you have any questions about the local market. I will always respond, and if I do not know the answer, I will find out for you.