In this blog you'll learn everything you need to know about April 2023 homes sales in Lochwood.  Along with which home sales will close in May. And key information about the Lochwood homes that are currently listed for sale.
Which Lochwood home sales closed in April?
In all, there were 5 sales. Three of these homes sold for 100 percent or more of the seller's original list price. 

10510 Swallow is the first new-build to sell in our neighborhood. Construction on this home was completed in 2022 and it has been on and off the market at various prices that range from $1.275M To $1.175M.
The new-build on Lochwood also closed recently. I'll report that sale next month.
10916 Ridgemeadow is not a new build, but it also sold for over $1M last month. This seller received multiple offers, which pushed the sale price over the $999,990 list price.
What these homes have in common is that they are all quite large. They have a minimum of 4 bedrooms and 3 baths and total square footage ranging from 3400 to 3700.
10847 Colbert Way and 11621 Saxon both sold over the seller's asking price as well.
The other characteristics that define April sales are fewer days on market and fewer price reductions before these homes went under contract. During the fall and winter, I was reporting really high days on market and lots of price reductions.
What about a year-over-year comparison?
Year-over-year, Lochwood home sales are down 61 percent, but the median sale price per square foot is up 10 percent.
This is the case throughout much of the Dallas/Fort Worth area. Why is it happening?
Because home owners who have locked in interest rates around 3 and 4 percent are not willing to let go of that rate to get into another home.
What I am seeing now is that the people who are selling are doing so because they have to make a move. They are either being relocated for work, or they need to be closer to their children, or they're retiring in a different area, or they're getting a divorce. Those are the people who are selling.
The dynamics of low inventory (supply) and high demand from home buyers is driving our values higher.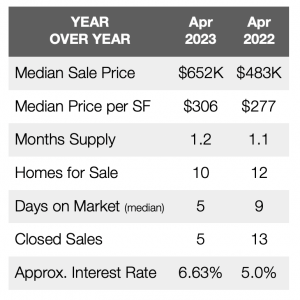 Which Lochwood homes sales will close in May? 
Seven sales have closed so far in May. Four of the sales were at 100 percent or more of the seller's asking price.
Here are the homes that are under contract and scheduled to close later this month, or in June: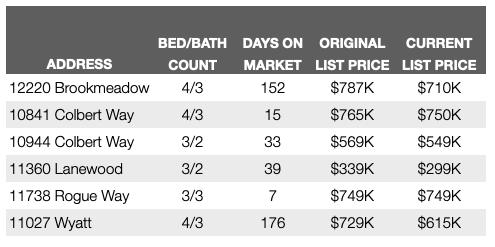 11 homes are currently listed for sale in Lochwood. The days on market for these listings range from 4 to 290!!! Yes, the one that has so many days on market is that one on Waterbridge. Honestly, I feel bad for that seller.
To view the homes that are currently on the market in Lochwood, go to robynflessnerprice.com/lochwood.
The lowdown
Let's wrap up with some key take-aways: 
Motivated buyers have accepted the reality of higher interest rates. They understand that they can either pay a higher interest rate now, or they wait to buy and pay a higher interest rate and a higher sale price later. They also understand that while they're waiting, they're missing out on a lot of appreciation. Our property tax values, most of which are below what a Lochwood home could sell for on the open market, are proof of that continued appreciation.
Speaking of property taxes, I ran comps for nearly 50 of our neighbors. Many of them had the Homestead Cap applied to their value. I could not find evidence to substantiate lowering the capped value for one homeowner. Not one!  Unfortunately, a lot of home owners think that the only way they can impact their property tax liability is to protest their value. But there is another way. Plan on attending city, county and school district meetings in the fall when they set their portion of the property tax rates. You can learn more about that by visiting the Know Your Taxes website. This site is sponsored by Texas Realtors and it's all about property tax transparency.
We are still in a seller's market because inventory remains very low. Well below the amount needed for it to be considered a balanced market. Multiple offers common again. Only this year, a seller may receive 3 or 4 offers as opposed to 15 to 20 that they were getting in 2020 and 2021.
That's all I have for you today.
Be well,